Once upon a time…
two artist friends decided to read picture books for children while improvising music. They called themselves The Lucky Trikes and began offering "Stories Wrapped in String", a Saturday morning series at William Harris Lee & Co. luthier shops in Chicago's Fine Arts Building and Wilmette that ran from 2014-2018.
Co-founder and theater artist Deirdre Harrison curates sets of books around a theme and includes award-winning authors and illustrators, as well as rare and original stories and volumes. Co-founder and composer Kyle Gregory Price leads the music, which includes improvised and classical music, and Price's original songs. Musicians from Chicago's thriving new music and free jazz scenes join Deirdre and Kyle for each performance. The Lucky Trikes are managed by Big Dipper Projects, Inc.
Over the years,
the Trikes have performed across the city as part of the Chicago Park District's Night Out in the Parks initiative, The Art Institute of Chicago's Charles White, Block Party and Lunar New Year celebrations, and appear annually at Navy Pier's Stroller Grooves, Thirsty Ears Festival, Make Music Chicago, Apple Fest, as well as at regional festivals. Between 2015-2019 The Lucky Trikes performed monthly at CityLit Books and then Jimmy Beans Coffee in Logan Square and gave a weekly story time for a large multi-lingual community at Lincolnwood Public Library in 2019.
Funded in part by the Chicago Community Trusts' Free for All Fund, The Trikes developed and presented a new series of music story times featuring children's books from the collection at the The Newberry Library in 2017. They helped launch its new community spaces in October, 2018 as part of its World's Fair exhibition in conjunction with Chicago Architecture Open House and later that season, the exhibition on Moby Dick. They have been featured in One Tree, Many Branches, the beloved Saturday family concert series at Northfield Lutheran Church and several children's music radio shows.
And then~
in 2018, the Trikes released its first album, We Are the Lucky Trikes, four original songs by Kyle with cover art by Beatrice Tabacchi. In 2019, Kyle designed and produced a music video for his original song Astray, with automatic drawing collaboration from then-9-year-old artist Edie Scranton. The project was realized with support from the Illinois Arts Council Agency and longtime partners Timeless Toys and Jimmy Beans Coffee.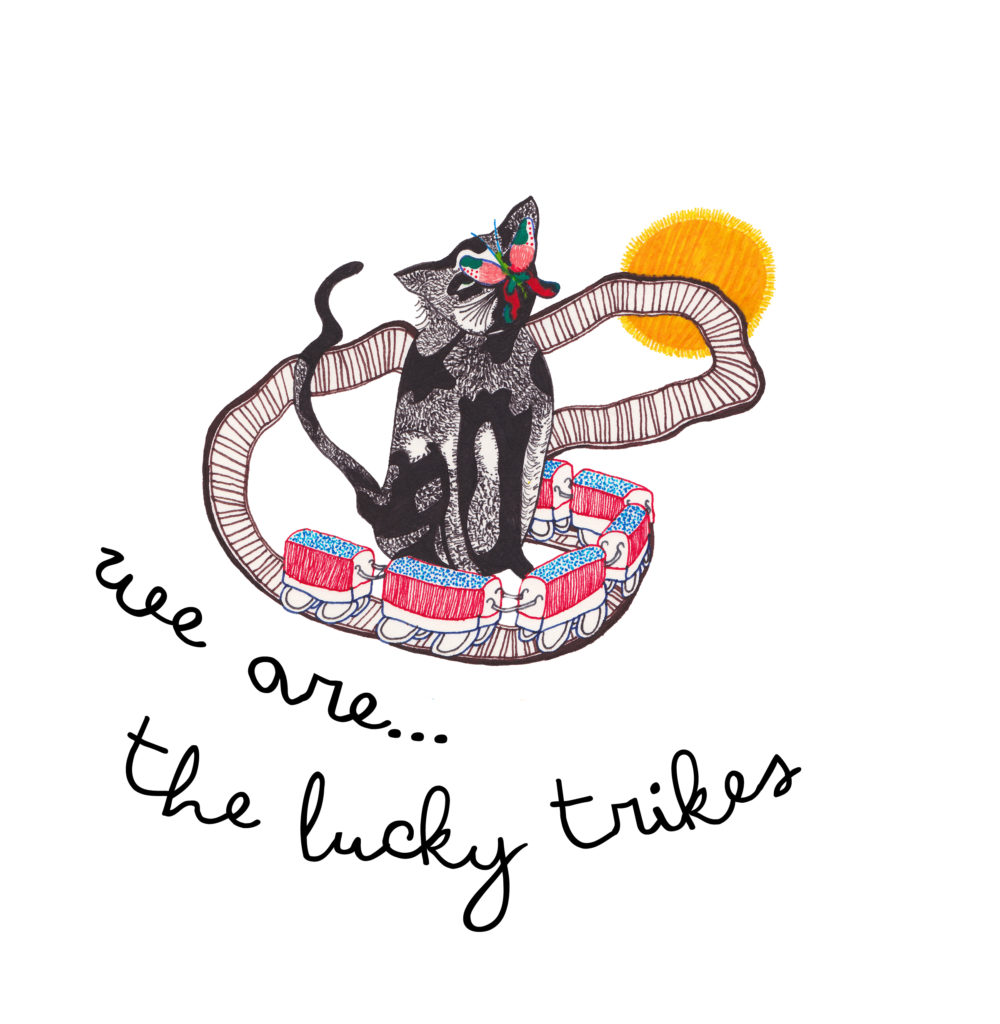 When the pandemic changed everything,
in 2020 and 2021, the band co-wrote and recorded a second album, Listen! Listen! Listen!, with Chicago children's puppeteers Sajja & Kabba including 8 new songs from Kyle. This album project was again supported by the Illinois Arts Council Agency. Deirdre and Kyle live-streamed and recorded events for the Experimental Sound Studios' Quarantine Series, the Chicago Park District's Your Night at Home series, and nine videos dedicated to some of their partners in working towards a 100% literate Chicago, as part of a grant from City of Chicago Department of Cultural Affairs.
During this time they planted lots of tomatoes at home and three new Little Free Libraries on Chicago's west side in La Villita and North Lawndale. Deirdre began to tour Chicago's lakefront with a mobile little free library on the back of a 1970's adult Trike, Dweleanor, which was gifted to The Lucky Trikes by Working Bikes. The Lucky Trikes were invited to design a somatic story time workshop for parents and daycare workers as part of the first Equip to Achieve SEL summit and look forward to bringing this workshop to adults working with young children in the future.
The Lucky Trikes collect gifts for Toys for Tots each year in a partnership with Timeless Toys and books for their favorite nonprofit family literacy initiative, Aunt Mary's Storybook, which links incarcerated parents and their children through storytelling.
What's going to happen next?!
We are back for Night Out in the Parks 2023! Six Tuesday evening story times with music at Touhy Park in the Rogers Park neighborhood that we call home. Save the dates starting Tuesday, June 13 at 6 pm. Plus an extra Wednesday night program on June 21 as part of an evening of neighborhood music for Make Music Chicago 2023.