Deirdre Harrison
Deirdre is the mother of a bicultural, bilingual daughter, a talented visual artist and social justice activist, who is her greatest teacher. Both sides of Deirdre's family are full of playful, creative people who trained as dancers, musicians and artists, but who often move through the world disguised as educators, attorneys, care providers and organizational leaders. She believes all people have stories to tell, and that listening to each other's stories enriches us all beyond measure.
Deirdre works as a director and performance artist in Chicago's burgeoning new music/opera scene and with her kids' chamber band The Lucky Trikes, who lead free, public music story times all over the region, and their bigger, bawdier adult iteration, The Lucky Bikes. During the day, she serves as Director of Advancement for Gateway Foundation, one of the nation's largest providers of substance use disorder treatment.
Previously Deridre has served in leadership roles at Snow City Arts and for Grammy award-winning sextet, Eighth Blackbird, on the boards of New Music Chicago and Mocrep. She continues to serve cultural workers through her consulting practice Big Dipper Projects, Inc.
Deirdre worked as a professional actress and singer for many years in London, Rome, New York and all over the regions in the UK and US. Returning to the states when her young daughter was young, she served on the administrative leadership of Baker Demonstration School, The Catherine Cook School and helped launch Global Citizenship Experience Lab School. A graduate of Yale, the Royal Academy of Dramatic Art, she is a certified ESL teacher, an alumna of Ragdale Foundation and the National Guild for Community Arts Education Leadership Institute (CAELI) and a member of Actors Equity Association and British Actors Equity.
Deirdre is writing her first children's book, illustrated by her daughter, Bea Tabacchi, who also created the cover artwork for We Are the Lucky Trikes.
---
Kyle Gregory Price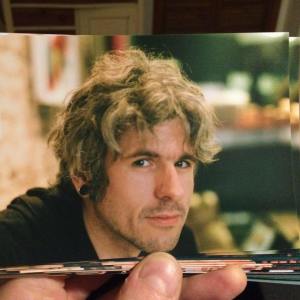 Kyle Gregory Price, composer, performer and percussionist, has been an active artist for 20+ years. With a Bachelors of Music in Composition from SUNY Fredonia, he has composed works for theatre, the concert hall, galleries and bar-room and DIY venues. Kyle performs across genres ranging from classical to polka, hip-hop to sound-art. His work has been heard on numerous college radio stations, the Toronto/Buffalo area PBS station WNED, and was featured on the televised PBS children's special ''Pocket Adventures''. He is the composer, percussionist and a singer for his band The Lucky Bikes and the children's project, The Lucky Trikes.
In addition to composing and arranging original songs and acting as music director for The Lucky Trikes, Kyle performs a repertoire of solo works with electro-acoustic percussion and a turntablist project, Musicology. He has appeared at the Museum of Contemporarily Art Chicago with the Merce Cunningham Dancers on the opening day of MCA's 2017 Merce Cunningham: Common Time exhibition and for Make Music Chicago as well as at the Burchfield Penney Art Center in Buffalo. He recently composed, curated and served as music director for Theatre Y's 2016 production of MacBeth at The Chopin Theater, part of Shakespeare 400 in Chicago. An active player in the free jazz and experimental music scene and can be heard regularly at local venues including Constellation Chicago, Elastic Arts, Hungry Brain, The Owl, Cafe Mustache, Myopic Books, Beat Kitchen and The Whistler and a variety of galleries and DIY spaces. Kyle has been a central participant in a series of public workshops in 2015-2016 and performed in the new epic opera by Christopher Preissing, Thunder, Perfect Mind and served as stage manager and percussionist for Articular Facet, another Chicago-based open culture opera collective. He resides in Chicago where he produces events for other artists, sells his handmade jewelry and has begun creating animated videos. Kyle wrote the songs and produced both of the The Lucky Trikes' albums, We Are the Lucky Trikes and Listen! Listen! Listen!.